THE DISTRIBUTION BULLETIN ISSUE #12
15/06/10
MAXIMIZING IMPACT
Many filmmakers aspire to change the world; Meg McLagan and Daria Sommers actually have. In just two years
LIONESS
, the film they co-directed, has raised awareness of a critical issue, catalyzed action by activists and officials, and helped launch major legislation. LIONESS revealed for the first time the role women soldiers were playing in direct ground combat in Iraq, and powerfully portrayed what happened when our country's first generation of female combat veterans returned home.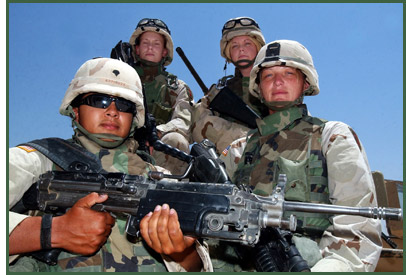 Meg and Daria decided to make the documentary after discovering that Team Lioness, a group of female support soldiers, was fighting beside men in some of the bloodiest counterinsurgency battles in Iraq. They learned that the official U.S. policy banning female soldiers from serving in direct ground combat was being violated on a regular basis. These women had not received as much training as male soldiers and were not eligible for the same VA disability benefits.

The LIONESS distribution strategy grew organically from the film itself. Determined not to preach to the choir or alienate large segments of the potential audience, the filmmakers presented the problem without prescribing solutions or taking a position on the war. This enabled an Inside-Outside approach in which government institutions (including the VA and the Department of Defense), members of Congress, and veterans service organizations could all use the film.

LIONESS is a model of hybrid distribution. Operating with a real sense of urgency and determined to maximize impact, Meg and Daria combined a short festival window with a national television broadcast and a major nontheatrical screening campaign. Their U.S. festival premiere was at Full Frame in April 2008, followed by Tribeca. They launched their nontheatrical screening blitz two months later at the National Summit of Women Veterans' Issues in Washington, D.C. Following ITVS community screenings in fifty cities, LIONESS aired on public television's
Independent Lens
in honor of Veterans Day.

The nontheatrical screening campaign has been critically important. The filmmakers didn't waste a minute or a dollar on a theatrical release. Instead of losing money in every city because theatrical costs usually exceed revenues, they made money from nontheatrical rentals and speaking fees. Instead of struggling to attract audiences suffering from Iraq war movie fatigue to theaters, they did special event screenings with partners (including the VA and veterans services organizations) that connected LIONESS with its core audiences of soldiers, veterans, military families, and healthcare providers. Screenings were usually followed by substantive discussions. Instead of playing in empty theaters, there often weren't enough chairs.

Meg and Daria decided to do their own
educational distribution
because they had developed good relationships with stakeholder organizations and the government institutions responsible for policy and post-war care. They have been extremely successful, selling more than four hundred copies to VA facilities and over seventy-five copies to Vet Clinics, in addition to sales to colleges, libraries, and other organizations. The filmmakers retained the rights to
sell DVDs
to individuals from their websites and at screenings, and made a deal with
New Video
to handle their retail DVD and digital distribution.

Press and outreach were key to the success of LIONESS.
The New York Times
did a piece about LIONESS and then asked Meg and Daria to create a
video op-ed
for the paper's website. They were interviewed on
Talk of the Nation
and other NPR shows, as well as the BBC. The film was also featured on the
CBS Evening News
and on CNN's American Morning. The filmmakers became credible sources for the press, enabling them to help shape coverage of military women.

The outreach effort was also very effective. The screening at the National Summit on Women Veterans' Issues generated a flood of screening requests and fostered key partnerships with the 1.2 million member
Disabled American Veterans
as well as the
VA's Center for Women Veterans
and its state affiliates. The screening of a twenty-minute excerpt of LIONESS on Capitol Hill catalyzed various efforts in Congress that led to the legislation that President Obama signed on May 5, 2010. This law will significantly improve health care for women veterans.

VA facilities across the country are using LIONESS as a training tool. Rural health care providers are being trained with a Lioness Media Resiliency Package. The Department of Defense has now acknowledged for the first time the role women are playing in combat.

Meg and Daria have just released,
Cultivating Change: Lioness Impact Report
. It explains what they did, how they did it, and the lessons they learned. The report can be very helpful when designing distribution, press, and outreach strategies. They will gladly send you a free copy if you email them at info@lionessthefilm.com.

Their film has already made a real difference. Your film can too.