THE DISTRIBUTION BULLETIN ISSUE #7
16/06/08
DISTRIBUTION TRANSFORMED
BusinessWeek posted an illuminating feature,
"Indie Filmmakers Hit Their Target,"
analyzing how independents are taking control of their own marketing and distribution. The article explores "the transformation of the film industry" and documents how filmmakers are "skipping [conventional] deals and using the Internet to get their stories in front of people who want to hear them." The website also includes a useful
slideshow
with commentary.

My inclusion in the article was serendipitous. BusinessWeek's reporter John Tozzi emailed me just after I'd given a presentation at the Cannes Film Festival on "cutting edge distribution" and shortly before I delivered a keynote in Hungary on the future of distribution. Tozzi and I managed to do an interview via Skype, and discovered that he happened to be writing about the same innovative models I was speaking about.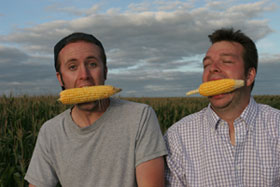 Tozzi's article highlights several clients I've worked closely with to design and execute customized distribution strategies. Curt Ellis and Ian Cheney co-produced and starred in
KING CORN
(directed by Aaron Woolf) about "two friends, one acre of corn, and the subsidized crop that drives our fast-food nation." They effectively implemented a hybrid strategy, utilizing the best of traditional and direct distribution routes. Instead of making an overall deal, the KING CORN team split up their rights, choosing reliable partners for theatrical (Balcony Releasing), television (PBS's Independent Lens), retail home video (New Video), and educational distribution (Bullfrog Films). They also sold DVDs directly from their website before and after they were in theaters.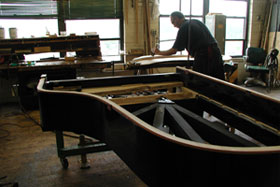 The article also spotlights the success of another one of my most unstoppable clients. Ben Niles produced and directed
NOTE BY NOTE
, the critically acclaimed documentary about the making of a Steinway concert grand piano. Ben launched his hybrid distribution strategy with a remarkable theatrical and semi-theatrical run featuring appearances and performances by the film's star, Steinway L1037, in select theaters. Working with a tiny budget, Jim Browne of Argot Pictures has already booked NOTE BY NOTE in 75 cities and is expecting to do the impossible: make a profit on the theatrical release. DVDs are also selling like hotcakes at screenings, whenever Ben is able to make them available.

We are living in revolutionary times. Every day filmmakers are blazing new hybrid distribution trails to maximize revenues, audience, and impact.