THE DISTRIBUTION BULLETIN ISSUE #11
15/12/09
WE HAVE NO SECRETS
THE COSMONAUT
shows how movies can be made in the New Worlds of financing and distribution. Although the project is still ramping up, the filmmakers have already developed a provocative new paradigm.

This sci-fi feature is being made by the Madrid-based
Riot Cinema Collective
, which began producing "subversive media" in 2007. Three 22 year-old filmmakers (Nicolás Alcalá, Carola Rodríguez, and Bruno Teixidor) and their 27 year-old head of communications (Gabriela Lendo) make up the collective. For their first feature, they took on an ambitious project that stands out online because of its unique content and distinctive graphics. It is the tale of a Russian cosmonaut, lost in space, who sends mysterious messages claiming he returned to earth and found it deserted.

Riot Cinema launched the project online with a rich and engaging website that includes the
script
, and an "
aesthetic dossier
." It also features an
irresistible video
that conveys the vision, spirit, and creativity of the project in under 4 minutes. This video demonstrates the brilliant use the collective is making of online media to spread the word, raise money, and build an audience.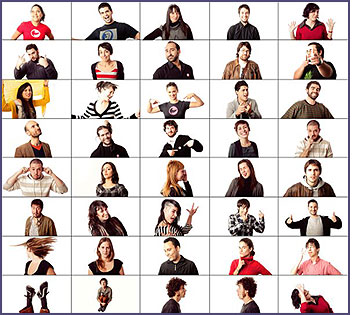 THE COSMONAUT already has over 1400 producers and counting. Anyone can become a producer by spending at least 2 Euros at the online store. There is also a growing group of investors who will receive a share of the profits for investments of 1000 Euros or more.

While the 600,000 Euro budget is being raised, a team of more than 35 people is already working gratis on the film. The energy and enthusiasm of this Wild Bunch is captured in their
team video
. They've already scouted locations in Star City (where Russia's cosmonauts were trained), begun casting, and designed posters. They're also engaging other musicians and designers through competitions and
events
.

The collective has devised a radical distribution strategy to attract attention, generate good will, and build community. THE COSMONAUT will be distributed for free online in HD. It will also be released in theaters, on TV, and on DVD at the same time. Even more radically, the film will be made under a "share alike" Creative Commons license that will allow anyone to edit, copy, remix, and distribute versions of the film. Rather than fearing piracy, the collective is welcoming the creative engagement of people across the web.

THE COSMONAUT is a trailblazing project worth following. The filmmakers are committed to transparency and are making full production and financial details available online. They proudly proclaim "we have no secrets."

Their
latest video
won the INVI Awards for Audiovisual Innovation. If you watch it you may be powerless to resist becoming a producer. It only costs 2 Euros and could help you see the future of distribution on Earth.

===========================================================================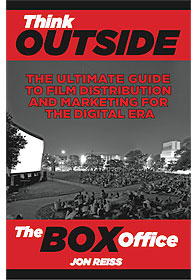 Jon Reiss' new book, THINK OUTSIDE THE BOX OFFICE, contains a wealth of valuable information and insights on state-of-the-art distribution. I consulted with Jon on BOMB IT and was impressed by the savvy way he brought his movie into the world. THINK OUTSIDE THE BOX OFFICE presents all that he learned in the trenches, plus the expertise of leading distribution pioneers. Read it and take control of your distribution.

If you know you want to purchase the book, you can
click here
and buy it at a discount. If you need more information or want to learn about the free gifts that come with it,
click here
. For an additional discount (valid through December 18th), use coupon code "THANK YOU."

===========================================================================