02/05/13
THE ART OF ASKING
Amanda Palmer has made an art of asking for help. In May 2012, the singer-songwriter ran a 30-day
Kickstarter campaign
seeking $100,000 to finance a new album, a tour, and an art book. 24,883 fans contributed and she raised $1,192,793 (five times more than any other Kickstarter music project).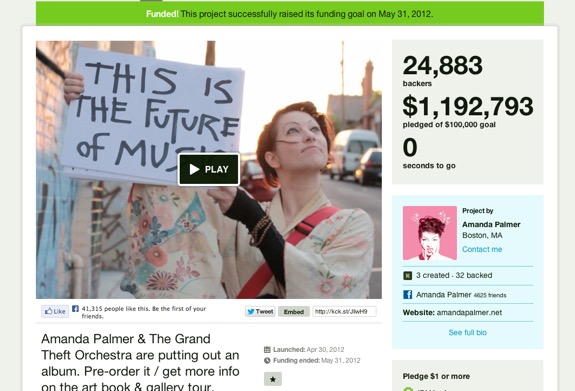 Her
campaign video
is one of the best crowdfunding pitches ever. It conveys her goals, her passion, and her persona in 3 minutes. Her music drives the video and her spirit makes it infectious and irresistible.

Amanda's recent
TED talk
on The Art of Asking is required viewing for filmmakers and other artists determined to maintain their creative independence. More than 2.7 million people have watched it in two months.

Her presentation is very persuasive. Amanda began asking for help when she was busking as a living statue, offering a flower to any passerby who put money in her hat. Since then she has continued to reach out to strangers and has learned how to connect to them more personally.

Amanda's TED talk contains valuable lessons for artists launching and sustaining careers in the new world of distribution.


Build a personal audience.
It is essential to develop a network of supporters you are in direct contact with. This requires hard work, ample time, and single-minded determination. Amanda was not an overnight success. She has spent 15 years developing and nurturing a growing fan base.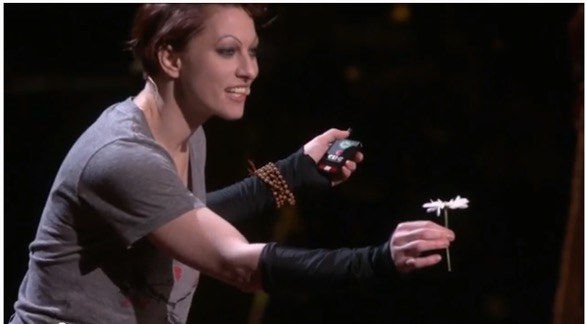 Connect in multiple ways.
Amanda mixes social media with face-to-face encounters. She is very active online, energentically
tweeting
and
blogging
(her team handles
Facebook
).

These days Amanda spends much more time connecting with people online (up to 6 hours a day blogging, tweeting, and emailing) than writing songs. She connects with fans in person during and after performances and is an avid couch surfer, crashing with fans when she and her crew are on the road.


Be authentic.
There is a clear voice in her Kickstarter video, her blog, her tweets, and her TED talk. Her distinctive point-of-view grows out of her personal experience. Her convictions are earned and therefore all the more persuasive.


Trust your audience.
She makes her music available digitally for free from her website, using a pay-what-you-wish model. She encourages people to share her music with others; her
website
urges fans to SHARE SHARE SHARE! COPY COPY COPY!

In return for her trust, fans contribute to her by buying a vinyl album, CD, poster, T-shirt, or art book from her website or by making a donation. Amanda believes in crowdsurfing, both literally and figuratively – "you're falling into the audience and trusting each other."


Ask for help.
Amanda explains: "Through the very act of asking people, I connected with them, and when you connect with them, people want to help you." She encourages artists to "ask without shame" and hopes people will "give and receive fearlessly." Her Kickstarter campaign gave existing fans a way to continue or increase their support for her. It also enabled her to attract new fans around the world. The patronage of a dedicated and growing personal audience will maximize her creative freedom and increase her chances to have a long and vibrant career.

--------------------------------------------------------------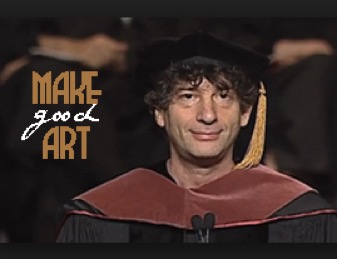 Make good art.
While Amanda was in the thick of her crowdfunding campaign, her husband, acclaimed author Neil Gaiman, gave an inspiring
commencement address
at the University of the Arts in Philadelphia. Beautifully written and delivered, it is definitely worth watching. He urges his audience to "make good art" and discusses the revolution in distribution. "The old rules are crumbling and nobody knows what the new rules are." This month his address will be published as a
book
designed by the exceptional graphic artist Chip Kidd.