THE DISTRIBUTION BULLETIN ISSUE #28
16/01/17
EXCLUSIVE GLOBAL REPORT: How To Build Your Audiences (Part 1)
Filmmakers around the world are blazing new trails on the frontiers of distribution. They're building audiences around their films and themselves in innovative and highly effective ways. American filmmakers can learn valuable lessons from these filmmakers just as they have benefited from U.S. examples.

This is the first of a series of exclusive global reports documenting how international filmmakers are designing and implementing customized distribution strategies. These reports present case studies from the UK, France, and the Netherlands. Each report tells the inside story of an unprecedented success. Together the reports provide an overview of some of the best ways to navigate the New World of Audience. I am very grateful to each of the filmmaking teams for their willingness to share private information with me that we hope will be of real help to other filmmakers.
I highlighted the three films covered in these reports in presentations I made on my recent trip to Europe. I opened the
Global Health Film Festival
in London; co-presented with Patrick Mueller of
Docmine Productions
a daylong workshop in Zurich sponsored by
FOCAL
; did a presentation for the
IDFAcademy
and one for
IDFA
delegates in Amsterdam; and in Cologne gave the closing presentation for the
Documentary Campus Masterschool
headed by Jan Rofekamp.

It was a fantastic opportunity to engage with emerging filmmakers from across Europe and around the world. I was very impressed by their creativity and passion, the quality of their projects, and their eagerness to learn how to most effectively bring their films into the New World of Distribution.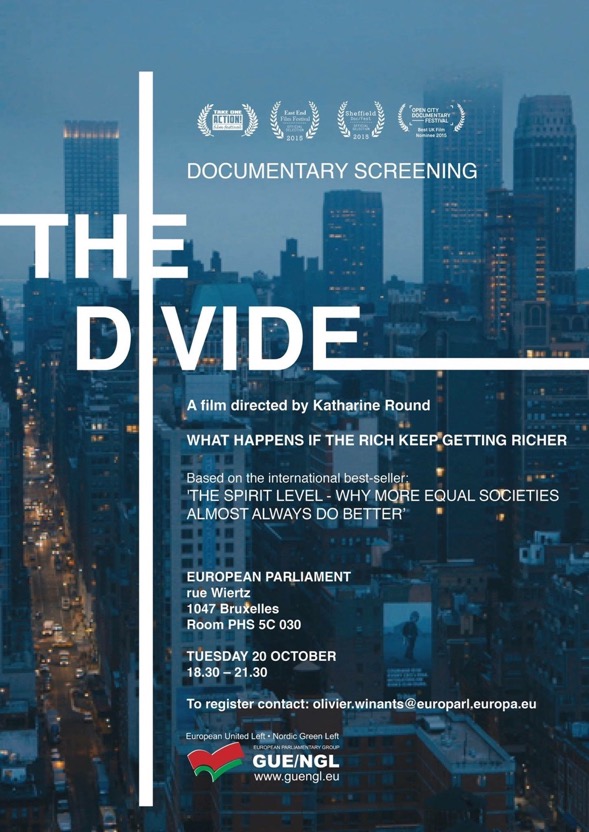 Christo Hird, head of
Dartmouth Films
in London, is not only one of the best and most prolific independent producers in the UK, he is one of the most forward-looking
.
When director Katharine Round pitched him the idea of making a documentary on inequality, Christo saw both the challenge and the opportunity. The film was to be based on
The Spirit Level: Why Greater Equality makes Societies Stronger
by Richard Wilkinson and Kate Pickett, a book that persuasively makes the case that societies with greater income equality are healthy, happier, and less violent. The challenge was how to turn a book filled with research results and charts into a compelling film. The opportunity was that
The Spirit Level
had sold 120,000 copies and had developed a significant fan base.
Hoping to tap this core audience, Christo and Katharine launched an
Indiegogo crowdfunding campaign
. Christo praised Katharine's nonstop campaign work and her commitment to providing "fresh news rather than the same old begging bowl." They were able to identify, reach, and activate the book's fan base. They significantly exceeded their goal, generating £45,000 from 1066 contributors, more than any UK documentary had ever made on Indiegogo. They subsequently conducted two more crowdfunding campaigns, raising another £20,000 and then £30,000 more.
Christo felt confident he could secure the rest of the film's budget, and shooting began. But his confidence was sorely tested. He explained that "some funders don't need to see a frame of film before backing it, but other funders need to see the whole film. Getting this judgment right, consistent with one's ambition to make the film and the demands of the production, is the greatest challenge of this business."
Not including deferments (producer, director, editor) of £110,000, the film cost £316,000. The sources of income were crowdfunding (28.2%), pre-sales (8.7%), donations (12.2%), grants from EU organizations (9.5%), grants from foundations (24.4%), tax credit (9.6%), and cash investment from Dartmouth Films (7.4%). In addition to producing and directing the film, Katharine played a key role in raising funds from foundations and other sources. Her company Literally Films (now relaunched as
Disobedient Films
) co-produced with Dartmouth Films. THE DIVIDE's premiere at Sheffield Doc/Fest 2015 energized donors and groups. The film received a
New Models of Distribution grant
from the British Film Institute for £22,300, which covered 45% of its distribution costs. A Netflix deal enabled the filmmakers to cover enough of the costs of their archival footage and music (initially they could only afford to clear festivals and limited screenings) to take the next step to worldwide distribution.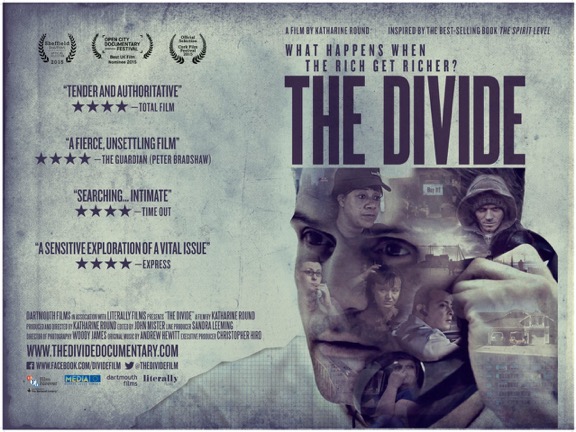 The theatrical release of THE DIVIDE in the UK was organized by Matt Hird at Dartmouth Films. The film opened in London in April 2016, where it received strong reviews and good initial attendance. Since then it has been shown in 70 cinemas around the UK. It has also been screened outside theatres in 100 venues, with another 10 nontheatrical screenings scheduled.
In theatres and at nontheatrical sites, THE DIVIDE is booked as a single screening and positioned as a special event. The goal is to schedule a discussion after every screening, which can be announced in advance to attract more viewers. Katharine and/or Christo have participated in as many post-screening conversations as possible, which average 30 minutes. THE DIVIDE dramatizes the impacts of income inequality by focusing on the contrasting lives of seven characters existing on different income levels. It vividly portrays income inequality but does not tell audiences what they could do to alleviate it.
The film's screening momentum in the UK has continued long after its availability on DVD and Netflix. Instead of watching it at home, many people have chosen to experience the film with friends and strangers and have a special opportunity to talk about what can be done.
Partnerships have been critical to the success of the film. The filmmakers understood the importance of approaching potential partners early. It can take months to get through to the right person at an organization, describe your project, discuss possible arrangements, get colleagues on board, and agree on a plan. THE DIVIDE team started reaching out to groups before they began production. While they were organizing their Indiegogo campaign, they contacted over 50 organizations (from The Equality Trust to Oxfam, the Quakers, and Church Action on Poverty). Many groups promised to support the film, and although some didn't follow through, a number of groups were very helpful. For example,
The Equality Trust
screened the film at its annual conference, spread the word online, promoted screenings in theaters, helped arrange post-screening discussions, and organized some screenings outside theaters. Partnering with the filmmakers offered The Trust a unique opportunity to use THE DIVIDE as a tool to help accomplish their goals. This was a perfect win-win arrangement.
As of January 2017, THE DIVIDE had covered the costs of its theatrical and nontheatrical release from revenues and its BFI grant. Once final archive and music licensing is covered, it will be possible to pay off Dartmouth's investment and deferments.
NOTE: While I didn't consult on THE DIVIDE, I previously consulted with Christo and his teammates on END OF THE LINE (see
Distribution Bulletin #16
).
© 2017 Peter Broderick