THE DISTRIBUTION BULLETIN ISSUE #4
05/09/07
CREATIVE DISTRIBUTION
Filmmakers who control their distribution can be as creative bringing their films into the world as they are making them. Arin Crumley and Susan Buice are the poster couple for distribution as a creative act.

They have been blazing new trails with their film
FOUR EYED MONSTERS
for more than two years. The film is an irresistible portrait of their romance, starring themselves: "We met online, started a relationship, & turned our lives into this project."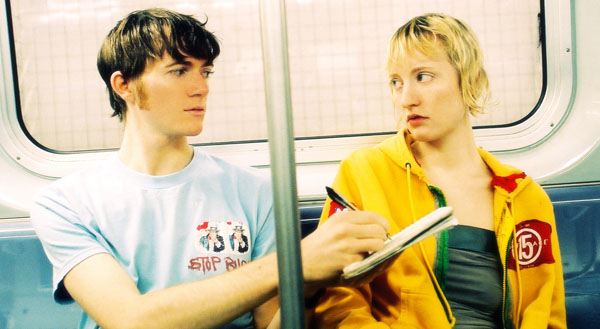 Learning to "disregard any preconceived notions of how things needed to be done," Arin and Susan got FOUR EYED MONSTERS featured on the MySpace home page while the film was still playing festivals. A few months later they launched a series of
video podcasts
on their website. Fresh, charming, and smartly made, the podcasts complement the film perfectly. Watched together, the eight episodes are nearly as long as the feature.

The podcasts helped them build a core audience for the film, which they then activated online. They screened their film in theaters every Thursday for a month in cities where a critical mass of fans requested showings. Building on this experience, they screened the film in 31 cities on
Valentine's Day
.

This summer FOUR EYED MONSTERS became the first full-length feature to be shown on
YouTube
. By September 1, 2007, more than 820,000 people had watched some or all of the film. In addition to sharing ad revenues as YouTube "content partners," Arin and Susan have earned almost $45,000 so far from
Spout.com
sign-ups. The filmmakers also persuaded
MySpace
to let them show their entire 73-minute movie on their MySpace page.

The
FOUR EYED MONSTERS website
is a model every filmmaker can learn from. The site is personal, with Arin and Susan's characters at its center. It has rich content, expanding beyond a promotional vehicle into a DIY filmmaking resource. Regular updates and additions keep the site dynamic, giving visitors reasons to bookmark the site and return. It features user contributed content, including over
70 video responses
to the film. Users can easily subscribe to Arin and Susan's podcasts via iTunes, MySpace, and YouTube. The tutorials are particularly valuable including:
"making a deal to sell your film,"
a
public database of movie theaters
, and
"dealing with massive amounts of footage."
Visit the site, watch their movie, take a tutorial, and liberate Arin and Susan from credit card debt.