THE DISTRIBUTION BULLETIN ISSUE #32
05/09/17
THE ONE-OF-A-KIND MODEL: KEDI
The wild success of
KEDI
, the one-of-a-kind portrait of cats in Istanbul, is particularly inspiring in a year when audiences have rejected one lame Hollywood retread after another. There is much to learn from how KEDI was conceived and made, and then broke through. Here is the exclusive inside story.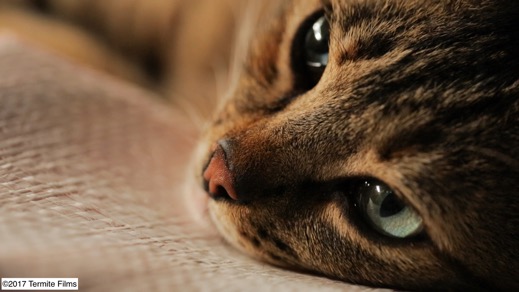 I was sure that KEDI would succeed from the first time I saw it in December 2015, when I started consulting on its distribution. In 2016 a long list of distributors, reps, and sales agents did not share my conviction and passed on the film. The filmmakers were certain there was an audience so they persevered and finally found the right distribution partner. In February 2017, KEDI had a record-breaking opening in New York, making $40,103 on its first weekend in one theater. By late August 2017, KEDI has grossed more than $2.8 million in US theaters.
A SINGULAR VISION
The story of KEDI began with a singular vision. Ceyda Torun and her husband Charlie Wuppermann decided to profile the cats of Istanbul, where hundreds of thousands of stray cats roam the streets. Neither feral nor tame, these cats enjoy an elevated status somewhat like that of cows in India. As the film notes, "Though cared for by many, they live without a master."
KEDI was conceived as a film without a genre—neither a traditional natural history film with David Attenborough-style narration nor a staged animal movie with a heartwarming plot and anthropomorphized creatures. This vision grew out of Ceyda's childhood experiences in Istanbul, where she raised 23 cats in her backyard and learned their remarkable qualities.
KEDI is the first documentary feature that Charlie and Ceyda produced, and the first that she directed. Charlie is a very experienced cinematographer and Ceyda had previously made short films and overseen co-productions at The Works International.
In 2013, Ceyda and Charlie flew from Los Angeles to Istanbul for a research shoot, landing as demonstrators were being teargassed in Taksim Square. When they returned to the US, they wrote a compelling proposal and made
a strong trailer
, and soon received full funding from two private investors.
CAPTURING CATS ON FILM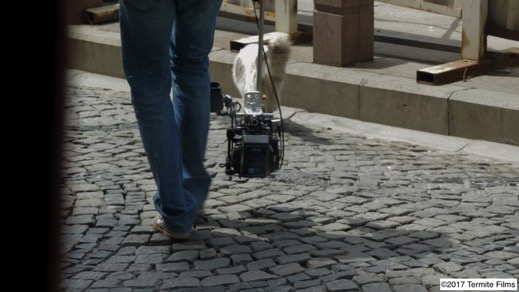 Ceyda and Charlie went back to Istanbul in 2014 for a three-month shoot. They were committed to accurately filming the daily lives and experiences of their main characters. They built special cat cams to enable them to capture feline POVs. They were also able to use some motion-activated night vision footage. They built a remote-controlled camera car and tried putting microchip cameras on cat collars but the cats didn't like the car or the collars. As inventive as they were about cat cams, their bottom line was to create a richly cinematic film for the big screen. They were determined to present cats for the first time in movie theaters at the highest standards of imagery that lions, tigers, and penguins had previously achieved.
They were committed to not misrepresenting the cats they filmed. They never tried to get them to do anything they didn't want to do, and stopped shooting the cats who no longer wanted to be filmed.
They filmed 19 cats, expecting nine cats with nine lives to be in the completed film. Some of their cats were fairly predictable; others roamed over huge territories and required cat informants to help locate them. Since the cats were used to people walking behind them, most were willing to let the filmmakers follow them around.
KEDI evolved during research and production. Ceyda initially planned to make a documentary strictly from the POVs of cats. But things changed during the research shoot. When Ceyda was interviewing Istanbul residents about their special relationships with cats, she had to translate for Charlie, who doesn't speak Turkish. Charlie noticed how philosophical the residents were in everyday conversations and encouraged Ceyda to continue to explore these perspectives. One man observed, "It is said that cats are aware of God's existence. While dogs think people are God, cats don't. They just know better." As KEDI became more philosophical, it moved beyond a conventional nature film and became singular.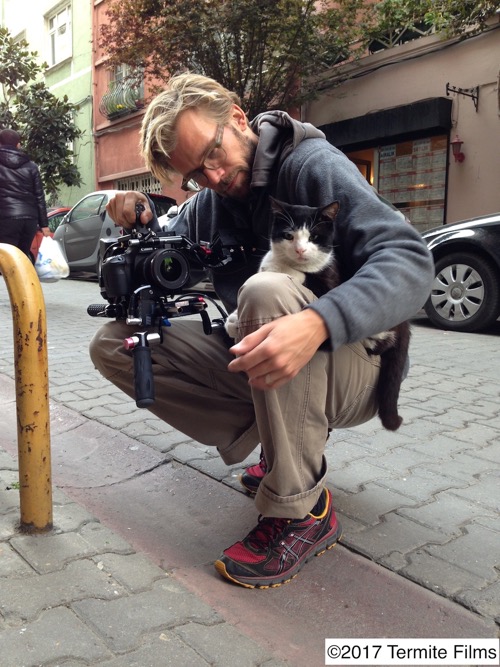 When the shoot ended, Ceyda and Charlie were sorry to leave their cat characters to whom they had become emotionally attached. They returned to Los Angeles and spent a year in editing and post-production. They reduced their main characters to seven, and built their stories. Their biggest challenge was how to weave these stories together. Through an extensive trial and error process they finally found the best way to order the stories and structure the film. Ceyda was intent on making KEDI an emotional experience with a poignant score to support the film's gorgeous cinematography.
MAKING DISTRIBUTION HAPPEN
As with most independent films, it was harder to make distribution happen than it was to make the film. The challenges and opportunities of making a one-of-a-kind film immediately became apparent. The enthusiastic reactions of viewers at one film festival after another confirmed Ceyda and Charlie's belief that there was a substantial audience for the film. The Seattle International Film Festival had to add a third, a fourth, and then a fifth screening due to audience demand. At an outdoor screening at the Sheffield International Documentary Festival, viewers caught up in the film stood in the rain to watch it.
Despite this exceptional response, distributors, producer reps, and international sales agents kept passing on the film. KEDI wasn't a nature film, a travelogue, or a political documentary. And it wasn't in English.
The problem was these companies were looking backward. Most distributors are looking for films similar to the ones they previously distributed successfully. None of them had ever handled a film like KEDI and there were no comps on cat movies. If you are looking backward to decide what to distribute, it is easy to miss new opportunities. Were the distributors who passed on KEDI unaware of the phenomenal success of cat videos online or did they believe it wasn't relevant? The
most popular cat videos
on YouTube have been viewed as many as 89 million times. The size of this global audience had convinced me of KEDI's distribution potential online.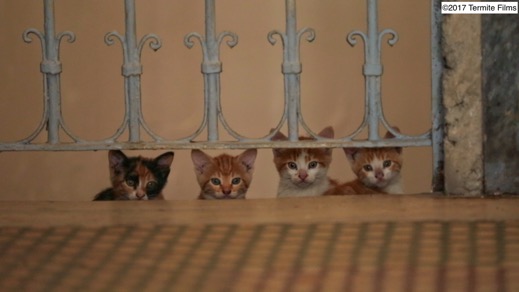 Ceyda and Charlie became increasingly frustrated as more and more companies passed on KEDI while it continued to be enthusiastically received by festival audiences. Finally, two U.S. distributors expressed interest after a theatrical booker who had seen KEDI at the Seattle International Film Festival recommended the film to them. Both companies screened the film and made offers. Ceyda and Charlie eliminated one distributor after they significantly worsened the terms of their offer during negotiations. Now they were down to a single suitor. Fortunately, it was
Oscilloscope
, a company that has a track record handling movies that are "different."
Oscilloscope was very enthusiastic about KEDI and offered to work collaboratively with Charlie and Ceyda to release their film in the U.S. Relieved and excited to have found the right partner, the filmmakers negotiated a deal with Oscilloscope, and immediately started working with them on the trailer. The result was
an exceptionally effective trailer
that works for both cat lovers and people with no prior interest in cats. [Note: You can compare this trailer to
the trailer that got them financing
. A poster was agreed on and Oscilloscope began showing the film to critics.
Oscilloscope created a smart customized distribution strategy, which included a social media campaign with
Cat-leidoscope
imagery, short video clips, and daily postings on Twitter, Instagram, and Facebook. For its premiere at the Metrograph theater in New York, Oscilloscope created a "standee" which made a motion-activated "meow" as soon as people passed by.
The New York Times
critic gave it "four paws up" and
IndieWire
called it "the CITIZEN KANE of cat documentaries." Oscilloscope sent KEDI-branded catnip to reviewers, many of whom have cats. This was a rare opportunity for critics to write about a sophisticated cat movie and led to glowing reviews and a 98% rating on Rotten Tomatoes.
The outstanding opening weekend in New York reaped the highest gross Oscilloscope had ever achieved in a single theater. Additional shows were added all weekend to meet the demand (echoing the added screenings at the Seattle Film Festival). Ceyda became increasingly skilled at introducing the film, assuring audiences that "no meows were added in post." She was also adept at press interviews, explaining to the
LA Times
reporter that the cats had ad-libbed all their lines.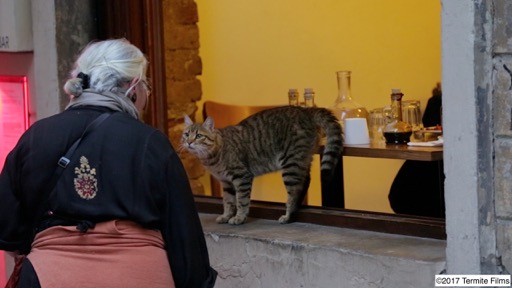 While being one-of-a-kind had been a real challenge while figuring out distribution, it became a real asset once distribution began. Word spread rapidly about "the cats in Istanbul" movie. It was so distinctive that it couldn't be confused with any other film. To find it online, all you had to do was a Google search for "cats in Istanbul" and you were linked to the trailer. No one had seen anything like KEDI before. Its uniqueness attracted viewers who enthusiastically recommended it to others.
KEDI also benefited from having a large and enthusiastic core audience of cat lovers who came out the first weekend and subsequent weekends, giving the film the time to cross over to more diverse audiences. As the successful theatrical distribution of independent films has gotten more and more difficult, the importance of a core audience willing to buy tickets the first weekend has become more and more important. Without an avid core audience, a film may only last one weekend.
International distribution was also a real challenge at first. The choices of international sales agents and distributors in territories outside the U.S. are also circumscribed by the "looking backward" problem. Many sales agents passed, even after its breakout success in the U.S. Many potential distributors around the world said in effect, "it's amazing how well it has done elsewhere, but we don't know how well it will do in our country." Then YouTube Red, which was clear about the digital potential of KEDI, made an offer for exclusive worldwide SVOD rights and nonexclusive TVOD rights. The filmmakers were able to negotiate a great deal with them, which enabled them to retain theatrical, DVD, and nonexclusive TVOD rights so they could make territory-by-territory deals, and to also sell DVDs and downloads directly from the film's website. Ceyda and Charlie teamed up with a freelance international sales agent who was already working with Oscilloscope on some of their other titles. Selling the film internationally became a team effort among Ceyda and Charlie, the sales agent, and Oscilloscope. The releases in Australia, Germany, Turkey, Benelux, and Scandinavia were very successful, and there are upcoming releases in Japan, South Korea, France, and other territories.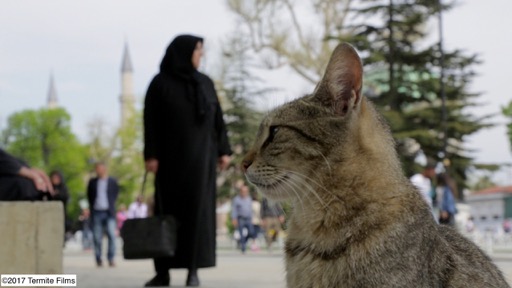 Because KEDI is a one-of-a-kind film there is no formula for filmmakers to follow (exactly). However, there are key elements of the KEDI story that are instructive and inspiring:
The film grew out of Ceyda's life experience. She understood and loved cats, and was compelled to make KEDI

Ceyda and Charlie did a research shoot that enabled them to figure out how to make the film, write a compelling proposal, and create a terrific trailer

They secured independent financing which gave them all the money they needed and complete creative freedom

Ceyda and Charlie stuck to their unique creative vision throughout production and post

They looked long and hard for the right U.S. distribution partner and found one that would work collaboratively with them

They were able to split their international rights, making a global SVOD deal as well as sales to countries around the world

They retained the rights to sell DVDs and downloads from their website, which will give them a direct revenue stream and a way to build a personal audience

Charlie and Ceyda are determined to keep making unique films through their company,

Termite Films

. Having overcome the challenges of one-of-a-kind filmmaking, and then reaping the rewards, they are now developing new, never-seen-before films.
© 2017 Peter Broderick