THE DISTRIBUTION BULLETIN ISSUE #9
10/03/09
CROWD-FUNDING
In her quest to change the world, Franny Armstrong has already changed how films can be funded. She designed an innovative "crowd-funding" strategy that has raised over $1 million dollars--£590,000 for the production and distribution of her new feature
THE AGE OF STUPID
and £164,321 for the
Not Stupid social action campaign
. A documentary/fiction hybrid, THE AGE OF STUPID is set in the "devastated world of 2055," where a lone archivist (played by Oscar-nominated Pete Postlethwaite) views footage from 2008 and asks "why we didn't stop climate change when we had the chance."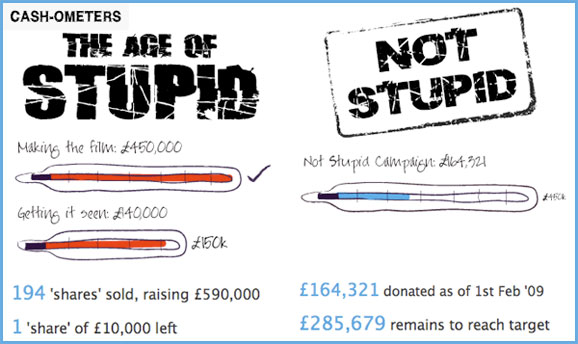 Franny, producer Lizzie Gillett, executive producer John Battsek, and the "Stupid Team" developed and implemented a brilliant fundraising plan. They raised all of the money through contributions from individuals and groups, rather than from the usual suspects: studios, TV networks, distributors, and government agencies. This approach guaranteed their creative freedom, and gave them complete control of revenues and distribution, enabling them "to distribute the film as far and as wide as our imaginations allow."

They devised an unprecedented way to give large contributors (who gave at least £2500) a percentage of any profits. These contributions are structured as loans that don't need to be repaid, avoiding the cumbersome regulations that apply to traditional investments. The 228 large contributors have also been an important ongoing source of additional resources and support. Small contributors who donate £20 or more receive "a warm and fuzzy feeling," screening tickets, and depending on the amount, credit on the website or DVD. The first half of the budget was raised offline during the 2 years before and during production, when the film's provocative content was top secret. Franny and Lizzie scored £87,500 at their first two pitch sessions with potential contributors. The team raised the other half of the budget after the wraps came off and the website was launched.

The website for THE AGE OF STUPID is exemplary. Its vibrant and dynamic content has been very effective generating awareness of the film and its issues, raising money, and attracting visitors. The website has its own persona, reflecting Fanny's. It's passionate, persuasive, and cheeky. It's also open and generous, sharing a wealth of information on the team's fundraising strategies, including a primer on How to Crowd Fund Your Film, detailed Crowd-Funding FAQs, and the film's fundraising plan.

THE AGE OF STUPID will have an eco-friendly People's Premiere on March 15, 2009 in 64 cinemas around England linked by a live satellite hook-up (some tickets are still available). This green carpet event will originate from a solar-powered cinema tent in Leicester Square. Distribution in the U.S. and around the world will follow the UK launch. To facilitate widespread grassroots screenings, the "Stupid Team" has developed "Indie Screenings." This new software, which processes screening requests and determines license fees, will be made available to independent filmmakers.

25 million viewers worldwide saw Franny's documentary McLibel. Her goal is to have 250 million see THE AGE OF STUPID and turn them into climate change activists through the Not Stupid campaign. The campaign is designed to "rally serious pressure on the decision makers" who will participate in the United Nations Climate Change Conference. A new treaty, succeeding the Kyoto Protocol, is expected to be signed at this summit (to be held in Copenhagen December 2009).

Franny's innovations are expanding the possibilities for filmmakers. She has already had 20 serious inquiries from filmmakers hoping to follow in THE AGE OF STUPID's fundraising footsteps. U.S. filmmakers can explore which innovative arrangements with contributors will comply with American regulations. As traditional film financing has gotten more difficult, "crowd-funding" offers a new way to finance films, retain creative control, and build a network of committed supporters. The "Stupid Team" has already made independent filmmakers smarter and will hopefully make global citizens smarter as well.