15/01/18
STEP-BY-STEP GUIDE TO CREATING A WEBSITE IN 1 HOUR FOR $9.88
(This is Part 2 of the
previous Bulletin
, which introduces you to the concept of creating your own website for $9.88. It is recommended you read
that Bulletin
first before embarking on this guide).


CLICK HERE TO READ BULLETIN 33A
CREATING A WEBSITE IN 1 HOUR FOR $9.88, IN 12 EASY STEPS
By Matt Myers

1.
Here is the link to an Excel file called
WordPress Creation Companion
. Open it and fill out everything you can. There are instructions in there for every cell and examples for every cell. If you can make a film, you can follow these directions.


2.
Go to
NameCheap
. Choose the VALUE PLAN on the left $9.88/year (you may remember this number from the snappy title).

Here is a page-by-page guide for completing this process. NameCheap is not the only host out there. For the last long-while they have been the cheapest.

a.) Use domain I own from another registrar (fourth button)
b.) Create account on right side. Copy paste from sheet.
c.) Paste in billing information from sheet.
d.) Follow prompts to complete account. There are more than are necessary.
e.) Once account setup is complete, enter domain name.


3.
Go do something else for an hour. Namecheap will send you three emails (like everyone does): a welcome, a receipt, and then finally your login info. This third email is sometimes instant, but it can often take up to an hour to arrive. You were not put on this earth to wait around for an email from a hosting company, so make yourself useful and return to this when that email arrives.


4.
During this waiting time, you are going to update the nameservers with your registrar. Remember that I'm assuming your domain is registered at Godaddy. If it's not, it will be a little different and unique to that registrar. However, all registrars have nameserver access; you just have to find it.

For Godaddy, login to your account. In the top right, click on username by the shopping cart.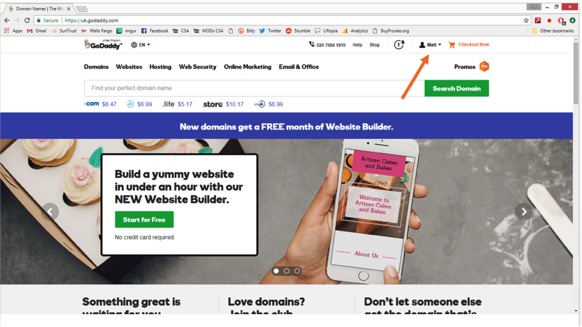 It will drop down a big menu. On the far left, click MANAGE DOMAINS.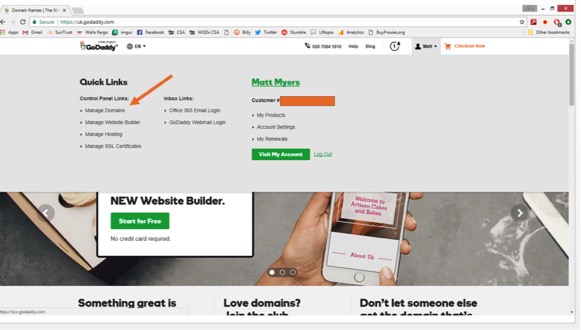 Just to the right of your domain name will be an ellipsis. Click that, then click MANAGE DNS.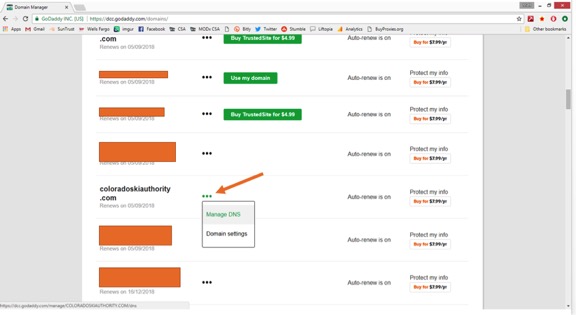 Scroll to the bottom of Records. There are two pages. Click page 2. This will land you on the Nameservers section. Click CHANGE.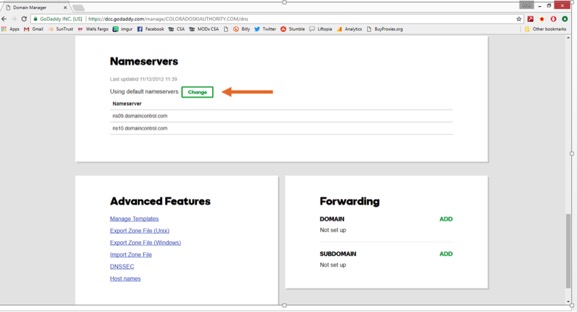 Click dropdown and select CUSTOM.
Copy/paste nameservers from the spreadsheet. If you used Namecheap, here are the nameservers:


dns1.namecheaphosting.com
dns2.namecheaphosting.com


If you are using a different host, you will have different nameservers, but they paste in just the same.
Click SAVE or ADD.
Sometimes it can take up to an hour to propagate, but typically with a new site, it is patched through in seconds.


If you have a different registrar than Godaddy,
just hunt around for NAMESERVERS or DNS in your account. The process will be very similar. Most registrars do the "are you sure?" bit so make certain that you see some type of message saying "nameservers updated successfully" or the like. If you cannot find them, just fire up a chat and someone will help you.


5.
That third email from Namecheap with the subject line:

Your Hosting Welcome Guide for yourdomainname.com
.
It contains the login information to your cpanel, which is the control panel for your hosting account. Grab the username/password and plug it into your spreadsheet.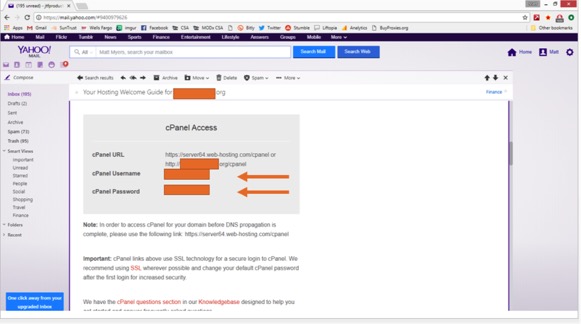 6.
Log in to namecheap with your hosting account creds (not cpanel). In top right corner click:
ACCOUNT > DASHBOARD.
In the middle of the page, under PRODUCTS, there will be three icons. The one in the middle looks like a server. Hover over that. Click MANAGE.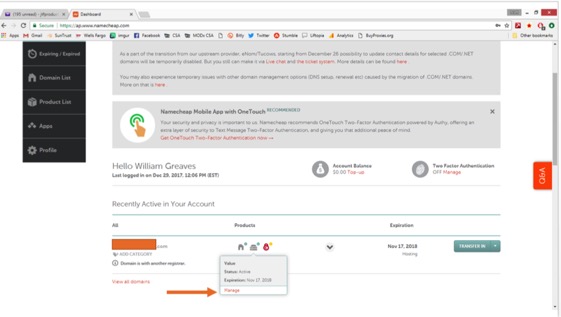 Scroll halfway down, click LOGIN TO CPANEL on the right.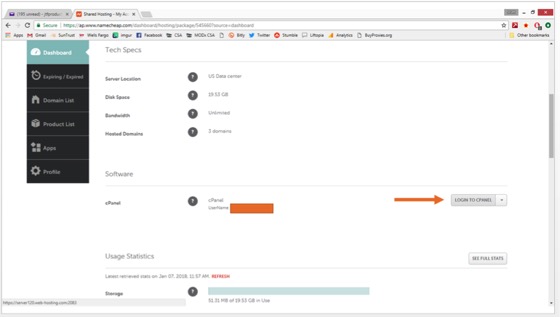 7.
Inside the cpanel is going to be a mess of icons that can just be ignored. Scroll to the bottom left. Look for the Wordpress icon. Click that sucker.



8.
Click INSTALL APPLICATION like a stone cold, full-stack developer.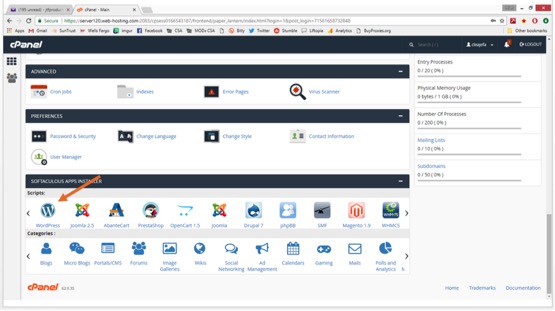 9.
There is a dropdown to choose protocol. Just go with either:
http://www.
http://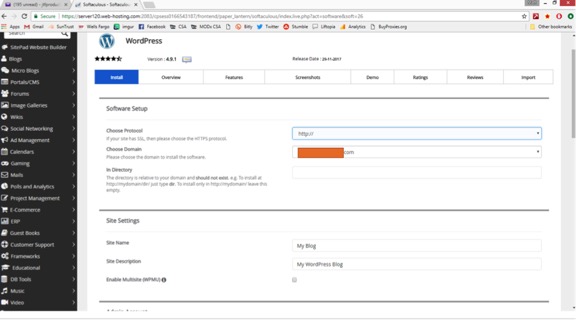 Note:
If you plan later to take credit cards or have people fill out a form with their information, you will need to do some tricks with an SSL certificate. It's a bit involved, but easy. But for now, choose one of the above.


10.
Have your spreadsheet handy. Copy/paste the fields from the spreadsheet into the related WordPress fields. Click INSTALL.
It'll take half a minute for the wheels to spin and status bars to fill before you level up, so just hold tight. We're almost home.


11.
You'll get a screen saying you're good. Grab the URL that says:
http://yourdomainname.com/wp-admin/
Paste into your spreadsheet. Then paste into a browser. (Or click it.)
Note:
Sometimes it's not ready instantly, even when it says it is. If it's not, there are two things to do. 1.) Have you updated the nameservers? If yes, go to #2.
2.) Wait. Not everything is instant. I'd give it up to 30 minutes, but 95% of the time it's ready instantly.


12.
Pat your own back. You are such a digital ninja. Filmmaker + website developer. What are you going to do next? Complete a triathlon? Have a baby? Probably so. Where do you find the time? What are you going to name her? I like the name Lucy.

WordPress is a lot like the first time you opened Avid or Final Cut: it's intimidating, but it's powerful and dynamic, and you can create whatever site you want with it.

HOWEVER. You are a filmmaker. You can't spend all of your time doing this. You need something useful and simple where you can do the kind of marketing and communications that are needed to take your film from Kickstarter to self-propelled.

So listen to me. If you are this far along, you have stood up a site in an hour and haven't even spent $10. Don't get wrapped around the axle trying to understand every last thing that WP can do. Instead, focus on finding a theme that looks like the website you want. Follow those instructions. And if you hit it big and need more than what this site can do, then do tomorrow's work tomorrow.

I've got some steps here to clean this thing up and get you in a good spot, but remember to spend your time on a theme. That theme can rep the vision and aesthetic of your doc and its marketing, so dig in there.


WordPress


The menu is down the left side. This is where you will access everything.


1.
Click Posts > All Posts > Delete – This is dummy content that you are deleting


2.
Click Pages > All Pages > Delete – This is dummy content that you are deleting


3.
Click Appearance > Widgets. In the middle of the page, delete META, ARCHIVES, CATEGORIES.


4.
Go to Plugins > Install Plugins. Copy/Paste:

Yoast. Click Install. Click Activate.

Simple WP SiteMap. Click Install. Click Activate.

Sucuri. Click Install. Click Activate.


Note.
Once you click activate, it will take you to your installed plugins page. If you try to search there for new things, nothing will happen. Go to the top left and click ADD NEW and then it will search for you.


5.
Go to Plugins. Delete any plugin that you aren't using, such as Akismet, Mojomarketplace, hello dolly.


6.
Appearance > Themes. On this page, click ADD NEW at the top middle. The WP search is not google. It doesn't know what you want. If you search for "art" it is going to find themes that either have been categorized as "art" or have art in the name, like "startup". You will want to spend a good deal of time in here finding something you like and that fits your style and needs. EVERY theme will give you a blog and pages you can build and widgets and the like. So don't worry there.

Almost every theme will have a preview so you can see what's up. These are free themes. There are also paid themes that you can search for outside of WP. They aren't much, maybe up to $60 or so. If you go that direction then my title collapses and that's not good for anyone. Whether paid or unpaid, they will function the same and the cost isn't prohibitive. Do what you like.

There are literally 10's of thousands of themes out there. You'll find one.

Just like with plugins, once you find a theme, hit INSTALL then ACTIVATE. If you buy a theme, you will just download their zip file and upload it here.

If you end up hating this tomorrow, just deactivate that theme and find another. You won't lose anything. If you decide in a year that you want to change the theme, there is some tedious work to be done, but not much. Just take from this that you can change anything at any time. If you need to.


7.
Go to Settings. These are all pretty self-explanatory. Go through each section and fill everything out or leave it blank. The site will work either way. There is one trip wire on SETTINGS > READING. It will ask if you want to disable indexing from robots. DO NOT TICK THAT BOX. If you do, no one can search and find you in google even if they know the name of the site or the film. And that's not what anyone wants.


8.
Done. You have built a site. And so fast. Such a prodigy. Now you need to create some content and start turning this into something real.


For some advice:
assume you are going to lose everything. Make copies of your content. You need everything in at least three places: your computer, your cloud drive, your external drive. If you don't have it in at least all three, you are just renting it. Do it for the baby! She has your eyes.

For some directions on pages to create. You don't have to have all and you certainly can have others that aren't mentioned, but this is like RSTLNE on Wheel of Fortune. You can fill in the rest.


About the Film
Trailer
Contact
Store or Where to Buy
Blog
Host a Screening
Awards
Press
Credits
Tour


Think about pages like you are answering the most common questions for everyone with each page. You know how everyone always asks the same questions about your film? Now you can just send them to your site—that you built with your own two hands—and let it do the talking.


What's it about? Where can I see it? Have you been to any film festivals? How do I email you? Have you won any awards?
You get the point.

Then your blog will do what blogs do.

When you are ready to create a top navigation, just go to Appearance > Menus and it's pretty instructional from there.


Overall advice.
Before you start with some real content, just put some dummy content in here (grab a page from somewhere) and mess around. Just like you would with Premiere. You aren't going to break anything. Just get your hands dirty.

Like a film, a website is never done; only abandoned. Know that neither a WP site nor any other platform is a "set it and forget it" enterprise. You will need to update content and add blog posts. Update screenings when you have new ones or posters if the art has changed. Also inside of WP, you will need to stay active with updating the software, the plugins, and the theme (you will get notices--plenty of them--reminding you; you won't miss it). None of them will be immediate, but just stay diligent.

I grew up in the country hauling hay, building fences, and chopping wood. Making a film was the hardest thing I had ever done, and I'd way rather go back to the farm than make another film. This is just a website, way easier than a film.

© 2018 Matt Myers